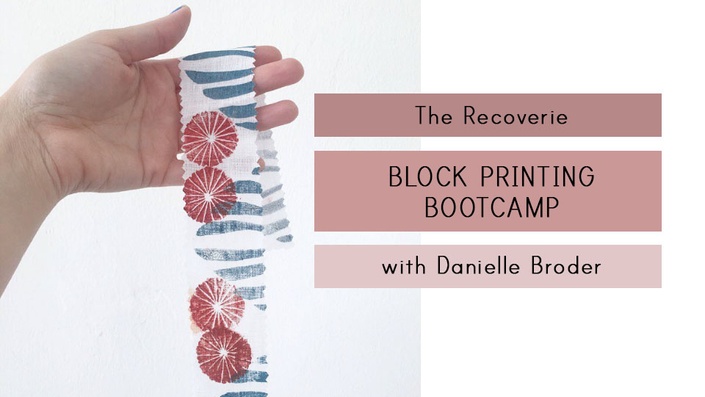 Block Printing Bootcamp
Learn how to start block printing beautiful fabric prints in less than 3 hours! (even if you're not an artist)
Enroll in Course
Are you interested in block printing but have no idea where to start?
Are you worried that you'll waste a ton of time and money
trying to figure out what supplies to buy?
Or maybe you're just worried that your art skills aren't good enough?
Hey, I get it! I was there not so long ago myself.
I started block printing in 2009 with no idea what I was doing. Eight years of art school, and I somehow never learned anything about printmaking.
I wasn't sure where to start, but I figured that between Google and my solid art background, it wouldn't take long for me to figure it out on my own.
But when I started researching, I only found vague and conflicting information (some of which was just dead wrong!) and found myself more confused than ever.
I finally just drove to the art store and ended up leaving with a pile of totally useless supplies after consulting the unknowledgeable sales guy (which ended up costing me a ton of extra money).
After a few days of frustration and a pile of wasted sad, smeary prints, I decided that I was going to stick with it until I found the best way to get my designs onto fabric.
Weeks later, after much trial and error (and 17 more trips to the art store), I felt that I had finally found the perfect combination of tools and techniques to make the perfect print.
I could now take any design I wanted and turn it into a beautiful piece of block printed fabric quickly and easily!
Shortly after, I started teaching what I had learned to others. Through interactions with my students, I learned an insane amount about how people approached my process.
After nearly 1000 students came through my door, I realized that 98% of them had the exact same questions and made the same mistakes when it came to block printing.
These small mistakes were affecting the look of their prints, making them frustrated and unhappy with their end results...even leading them to want to give it up entirely.
I could help the people in my classes, but what about all those other people out there trying to block print with no idea what they were doing?
I started thinking about how I could help them and others like you.
What if you didn't have to spend extra hours and money sourcing all the right supplies?
What if I could prevent you from making all those easily avoidable mistakes I kept seeing my students make?
It made me want to create something to help you make your best work.
Something that I could hand you that would answer all your questions about tools, inks, printing, creating a design, and fixing the most common issues.
Something that I could give you that would have you block printing your own custom fabric by the end of the day, even if you had no prior art experience.
Imagine coming home from work after a long day of sitting in front of a screen, turning on some music, and taking an hour or two just to relax, be creative and use your hands for art.
Imagine how it would feel to gift a handmade baby blanket (printed by you!) to your new niece or nephew.
Imagine using your new skills to create beautiful handmade products to sell online or in shops to happy customers worldwide.
Imagine your friends walking into your home and seeing your hand printed pillows on the couch and asking where you bought them.
Now imagine their faces when you tell them you made it yourself…
I want everyone to experience a moment like this! And I knew I could easily solve this problem.
So that's why I created..
Block Printing Bootcamp is an online course for beginners and experienced artists alike that will take you from doodling stick figures, to block printing beautiful hand printed fabric in less than 3 hours.
This "work at your own pace" video course gives answers to every one of the most common printing issues I've come across, and can help anyone, no matter what their skill level, get started quickly and easily with block printing.
Block Printing Bootcamp allows you to skip over all the hard stuff around getting started and lets you jump right in.
No searching for supplies, I give you a full list of the few important tools you'll need.
No trial and error necessary, just go through each video to learn new tips, tricks and techniques.
No getting stuck, you can reach out to me at any time with your questions.
What kinds of things can I block print?
The options are limitless, but here's a short list of projects I've helped my students with:
Wall prints & hangings
Wedding linens & invitations
T-shirts, scarves, & dresses
Concert posters
Indian sari's
Upholstery, drapery & pillows
Baby blankets & onesies
Tote bags & aprons
Paper prints to sell on Etsy
Bed linens & quilting projects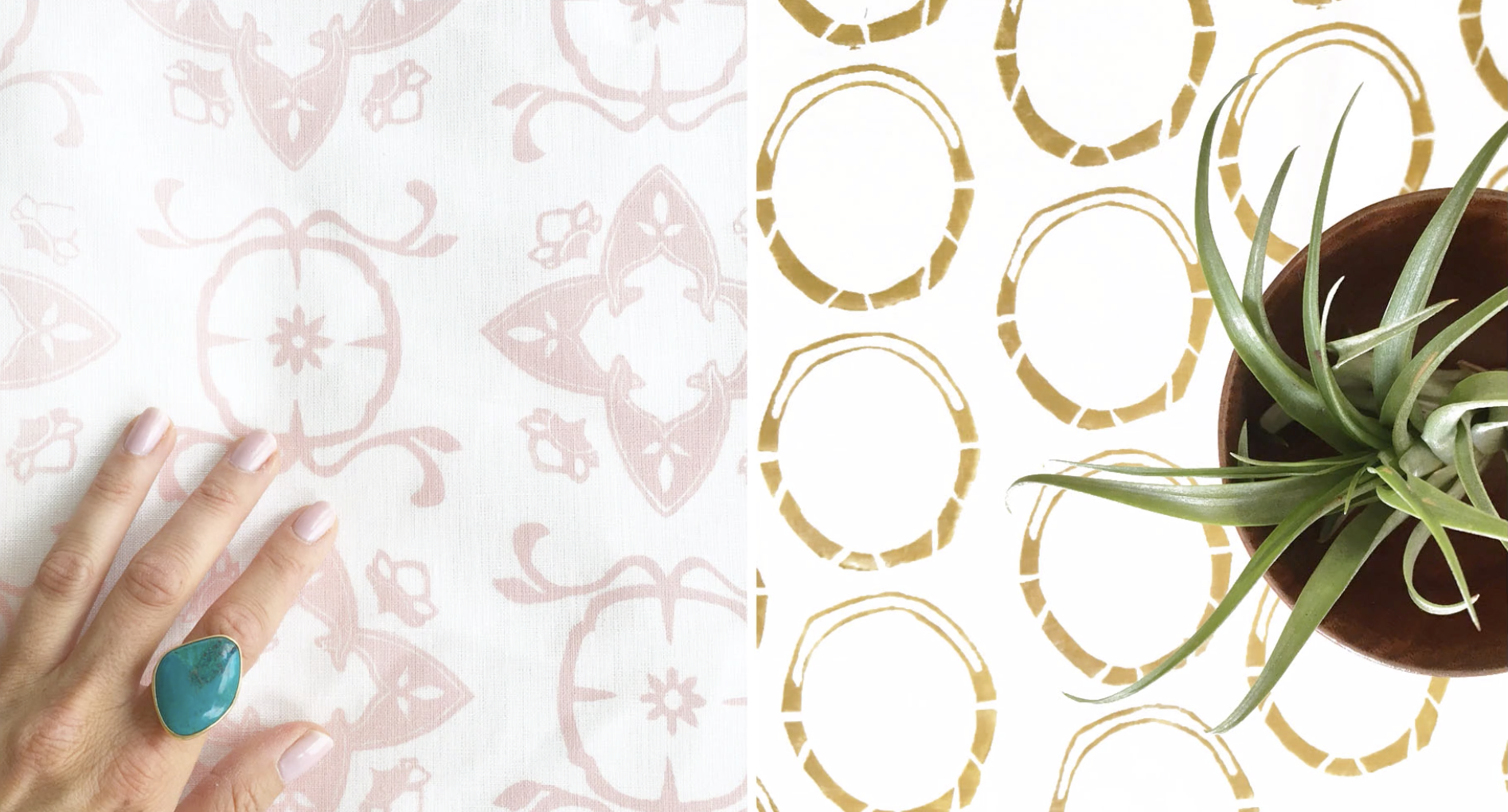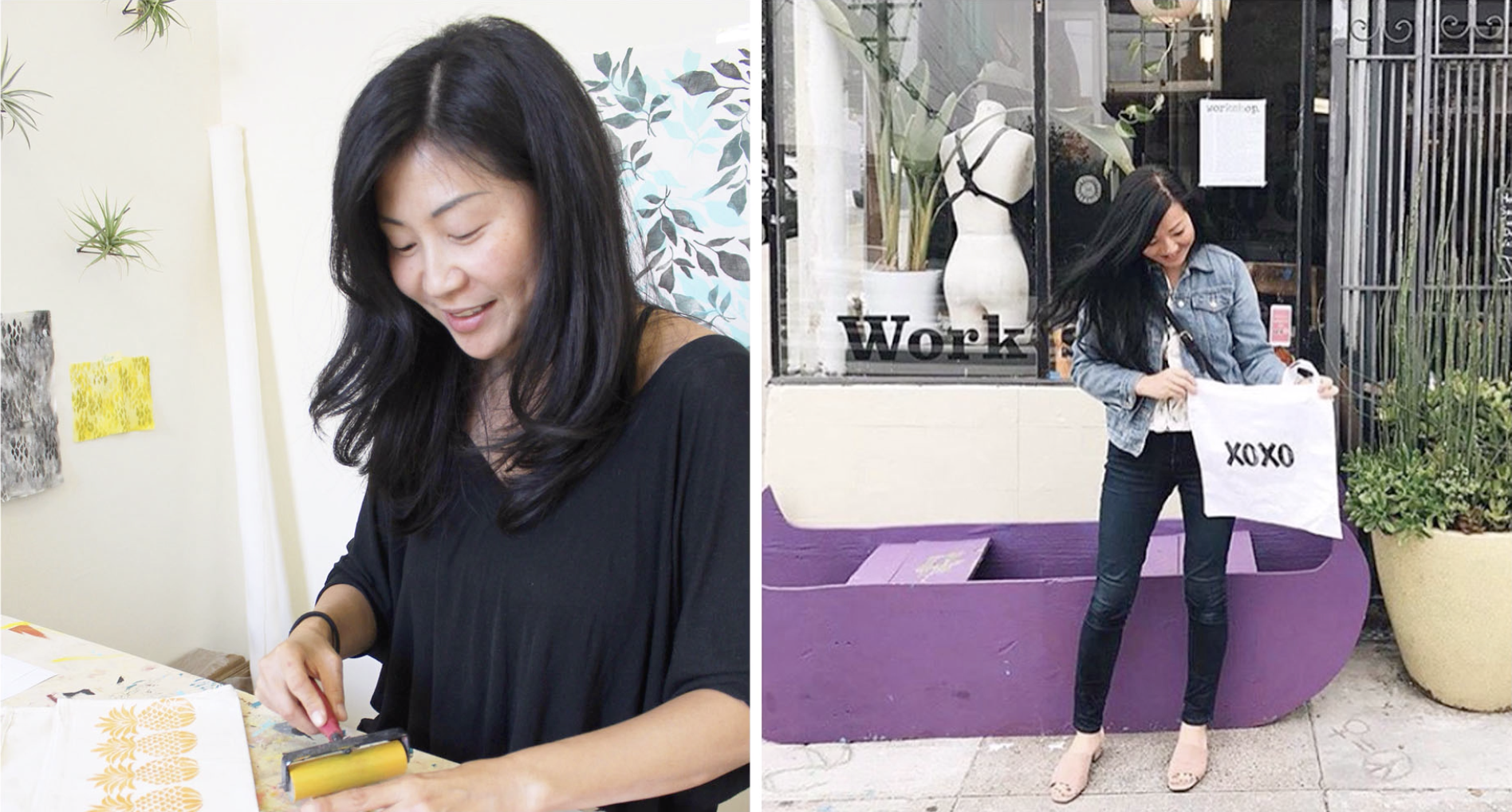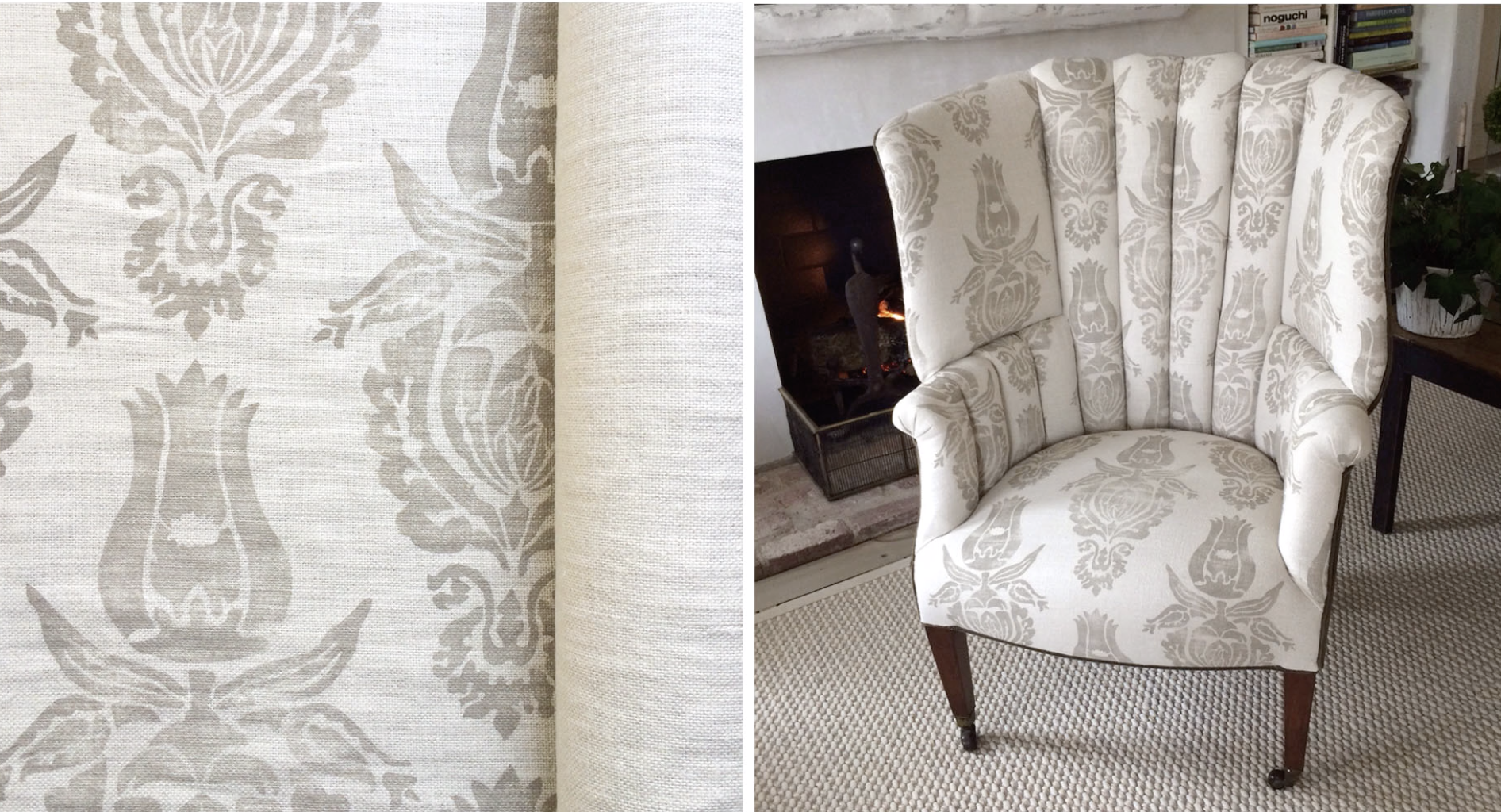 Here's what you'll get in the course:
Over 2 hours of detailed video instruction (8 modules of video demonstration)
A complete supply list with links
2 mini-courses with step-by-step projects
A guide to the most common printing issues (with solutions!)
Full email access (message me when you're stuck!)

PLUS!...
You'll receive a bonus of 30 illustrations for you to use for your projects.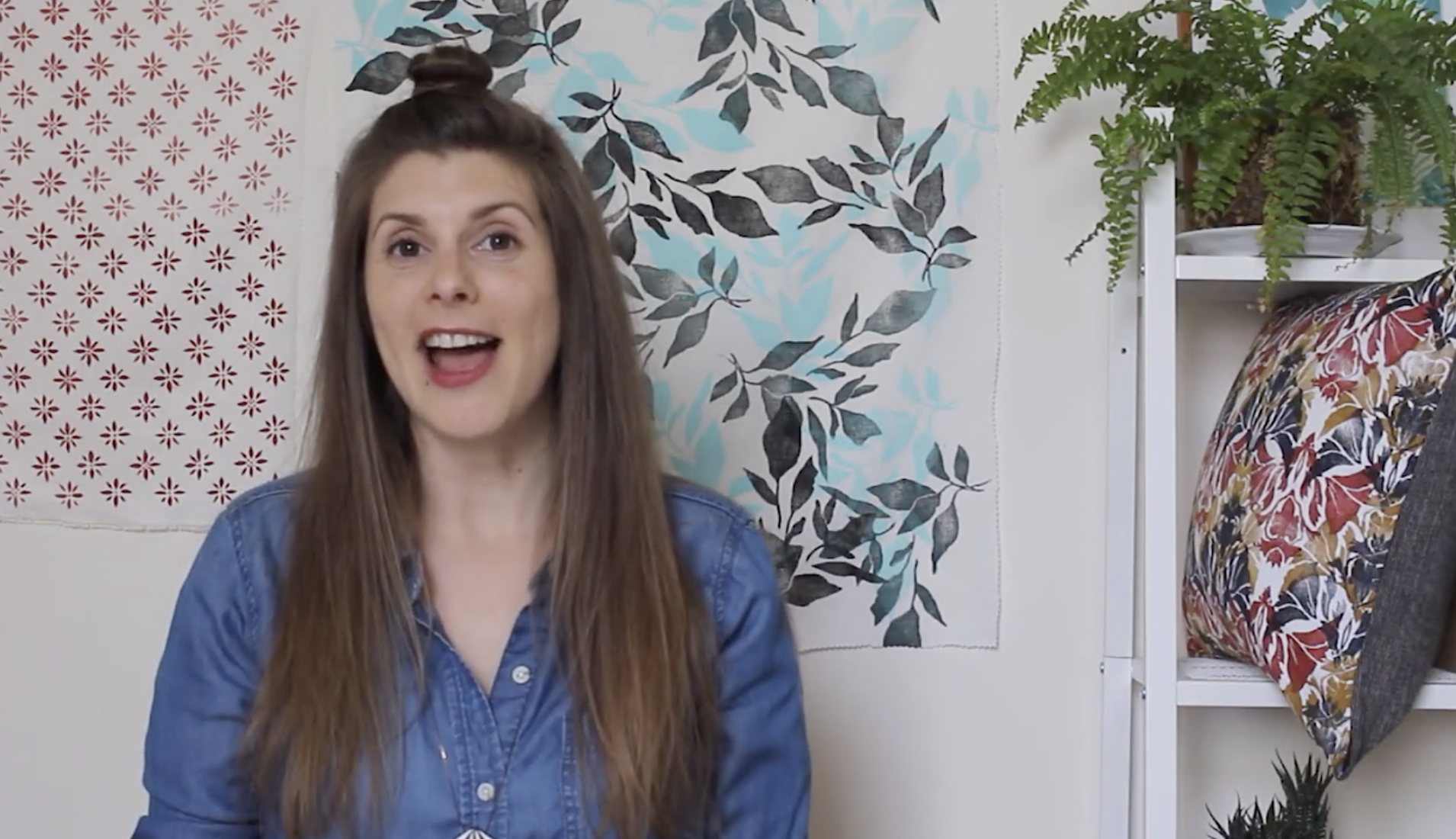 2 Hours of video:
In the course, you'll come into my home studio and see work by my former students, as well as some of my own designs.

I'll take you through each step of the process in detail, including designing your print, carving, inking, printing, and setting...just as if you had come over to take a class with me!

Supply list:
No need to sift through a bunch of confusing options, I'll provide you with a detailed list (with links!) of exactly what you'll need to get started right away.
2 Mini-courses:
Finished the course and looking for a project to start? I got you. I've embedded two of my most popular printing videos into the course. I'll take you step by step through each project so you can get that artwork on your walls asap!
30 Bonus illustrations:
Still convinced you can't draw? Good thing you don't really need to in this class (unless you want to!) When in doubt, download one my pdf illustrations that I designed specifically for block printing. Just trace and move onto the next step!
Common printing issues guide:
Whether you're drawing, carving, inking, or printing, there are a bunch of little mistakes along the way that can add up to one big disaster if you're not careful. This guide will help you breeze past these issues and create clean, sharp prints on the first try.
Email access:
I packed all my best tips into each video, but if you have more specific questions, you can reach out directly to me at any time for feedback.
How will you watch the course?
After purchasing, you'll be sent a link where you can jump in and start the course immediately. You could literally be watching the workshop 5 minutes from now!
The entire Block Printing Bootcamp course - all videos, bonuses and downloads - is broken into easy to follow sections to let you skip around and work at your convenience.
What is it worth to you to save hours of your time trying to figure out everything on your own?
How much extra money will you waste before finally purchasing the right supplies?
Why not skip the learning curve and just get to the good stuff?
Let me save you the extra cash and the hassle.
Block Printing Bootcamp can be yours for
$85
You'll also get a 30 day money back guarantee. I want you to love what you make!
"Danielle is a calm and gifted teacher. Her class was pure joy and I feel prepared to work independently this summer as a beginner. Thank you Danielle!" - Karen, San Francisco
"Such a fun class! I loved learning how to make new prints and patterns. Danielle is a wealth of information and makes learning easy, even when freehand drawing seems a little daunting." - David, Los Angeles
"This class was so great! I️ have always been fascinated and intrigued by textile design, so this gave me an opportunity to get a glimpse of what goes into this process. Danielle was detail oriented, informative, and inspiring. I would recommend this class to anyone that wants to work through any creative blocks or for anyone that just wants to have a creative and fun afternoon." - Lisa, North Carolina
Frequently Asked Questions
What if I have no art experience? I can't draw for beans!
95% of my students have no art experience either, so you'll be in good company! The drawing portion of this project is only used as a guideline, so if it's messy, no problem! And if you really are feeling that anxious about it, you can always trace any design you want or use one of my custom templates that are included in the course bonuses :)
When does the course start and finish?
The course starts now and never ends! It is a completely self-paced online course - you decide when you start and when you finish.
How long do I have access to the course?
How does lifetime access sound? After enrolling, you have unlimited access to this course for as long as you like - across any and all devices you own.
What if I am unhappy with the course?
We would never want you to be unhappy! If you are unsatisfied with your purchase, contact us in the first 30 days and we will give you a full refund.
Can't I learn a lot of this stuff on YouTube or by reading your blog?
Ah, the age of creation, where anyone with an iPhone video camera can pretend to be an expert… :) You'd be surprised how much bad information is out there! You can pick up some basics from my blog, sure, but if you want to really get into creating clean, sharp prints, quickly and efficiently, want to skip the long learning curve, and pick up a ton of pro tips from a legit expert who's been printing nearly a decade, this class will deliver!
I still have questions!
No worries. I'm happy to answer any and all of your questions. You can reach me at
[email protected]
:)
This class was a ton of fun! I'm definitely not "artsy" and found the class to be well-paced and easy for beginners. - Jade, San Diego
Thank you so much for simplifying the info. I wish I had found this earlier, it would have saved me a lot of wasted time experimenting! - Maureen, Los Angeles
It was really fun to try something new and get creative! Definitely would recommend this to friends.
- Villa, Finland
Fantastic course - highly recommend! Danielle led us through her creative process before we sketched, carved, and stamped our designs. She also provides a shopping list of tools. - Jeanne, San Francisco
Your Instructor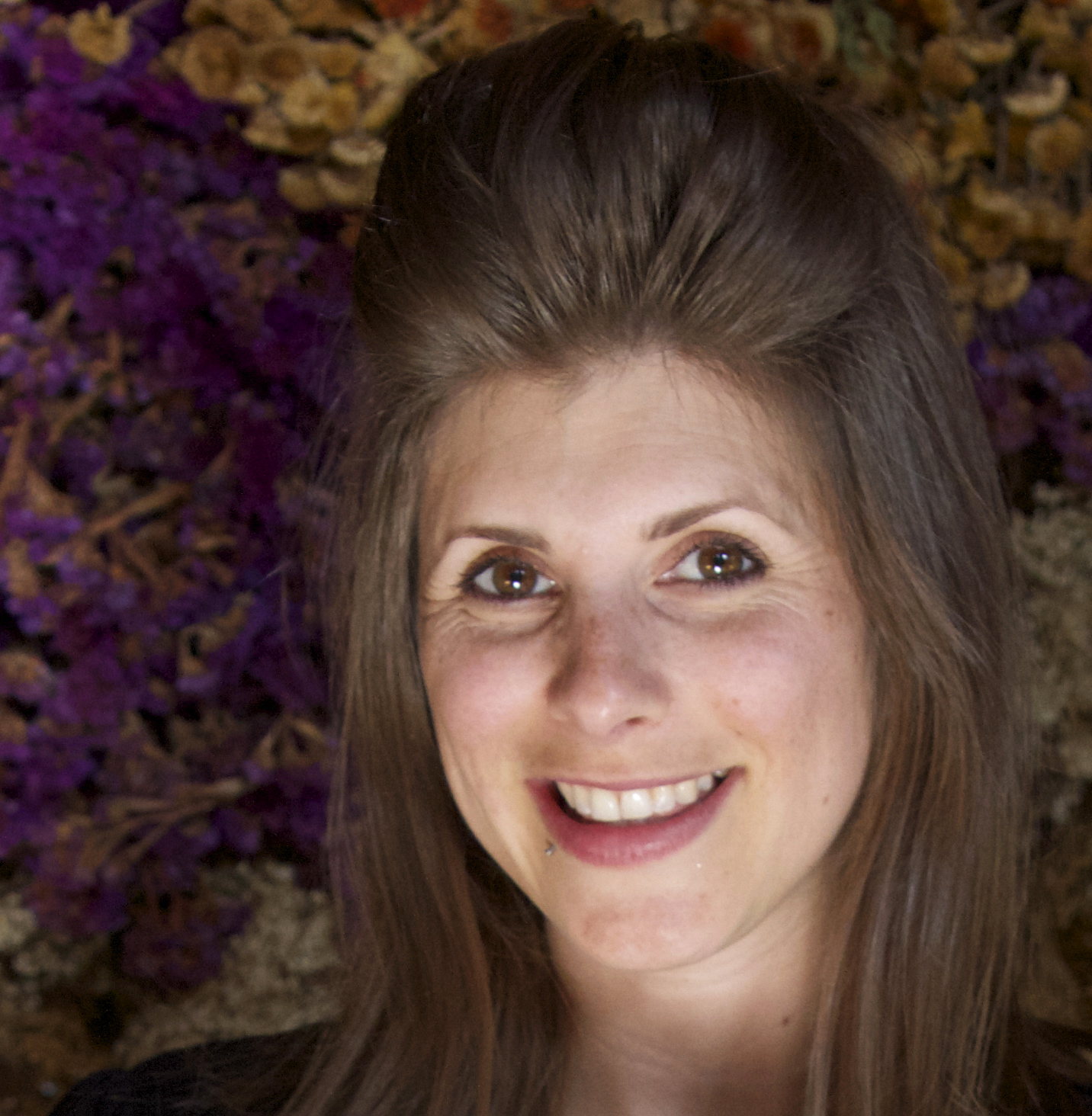 Hey, I'm Danielle and I love helping people explore their creative side through printmaking. I'm an illustrator and textile designer with a love for interiors and handmade design.

I started teaching my block printing process over 5 years ago through workshops in my kitchen, and have since taught thousands of students how to block print online, many who claimed they were terrified to even pick up a pencil.

Block printing is such a fun and forgiving medium, and I love seeing what my students create and come up with. Come join in on the fun, and I'll see you inside!
This class is perfect for you if:
you have no art experience


you are afraid of drawing and painting and are convinced that you have no artistic skill whatsoever (I've met many of you and I assure you, you do!)



you DO have art experience, but want to pick up another medium or fun hobby
Course Curriculum
Intro & Examples
Available in days
days after you enroll
Tools of the Trade
Available in days
days after you enroll
Designing Your Block Print
Available in days
days after you enroll
In Block Printing Bootcamp, you'll get -
Over 2 hours of detailed video instruction (8 modules of video demonstration)
A complete supply list with links
2 mini-courses with step-by-step projects
A guide to the most common printing issues (with solutions!)
Full email access (message me when you're stuck!)
Plus 30 custom illustrations specifically made for block printing!